Toscana, colonica, casale in pietra. 900 square meters + Terreno. Euro 900.000 Rif. PR171
30 minutes far way from Florence airport, big property including a big stone building and a renovated colonica with 170.000 square meters of land.
Contatta l'Agenzia
In a beautiful panoramic position, in the countryside close to Florence and Prato, 30 minutes far from the Florence Airport, we offer this property with land.
The property consists in 2 buildings and 170.000 square meters of land, part with olive and fruits trees and the biggest part a woods where are also rests of an ancient "Convento" (1090's).
The structure lends itself perfectly for an extended family or even to be part of making income through holiday rentals.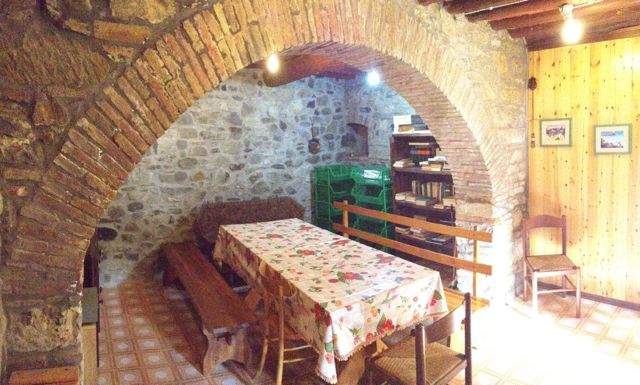 In the old main house (built in 1.100 ca.) the surface of the basement, ground floor and the first floor is spread about 500 square meters and it's divided in 2 indipendent houses that can be splitted in more units thanks the fact that there are 4 access doors to the building and internally is organized with 3 kitchens with fire place, 6 bedrooms, 4 bathrooms, 3 cellars in the basement and 2 panoramic terraces. The facade is in ancient original stones as the ancientest kitchen in which you find a nice brick arc.
The second building was originally the barn and has been recently completely renovated as residential house and has got 3 access doors and is organized with 1 kitchen, 3 living-rooms (one with the fire place and one with an open mezznine), 3 bedrooms, 3 bathrooms, cellar, laundry.
In this building there is also a spacious rural annex used in the past for the small private frantoio, but can be use as huge garage or to be renovated as another apartament.
It is possible to build a swimming pool.